ECOTESTERS
Ecotesters are measuring devices for domestic use, which are designed to select environmentally friendly food. Of course, we do not get a detailed laboratory analysis, but getting the measurement result with an accuracy sufficient to understand whether it is possible to use such products yourself or to feed the children is definitely possible.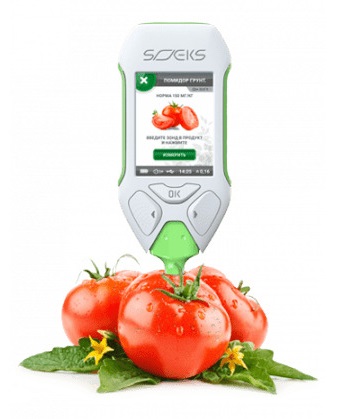 Moreover ... The result will not be long in coming. According to some measured parameters, the devices are capable of producing a result within 5 seconds from the start of the measurement.
After eating foods that have been preliminarily analyzed using the ecotester, people who play sports notice a greater supply of energy, older people note that they are less tired, and their children feel better. After all, parents often do not even realize that having offered a child a healthy fruit, they risk that in these products, in addition to vitamins, there can also be nitrates, which often lead to at least poisoning the child's body, which has not yet matured and is less protected.
What can these miracle devices measure?
The nitrate content in vegetables, fruits, mushrooms, meat, fish
Background radiation level
Water hardness (Number of salts in water)
Electromagnetic field level
The site presents devices of the ANMEZ Greentest and SOEKS trademarks. They have been sold on the Ukrainian market for more than a year, and therefore the accuracy of devices and their quality are at a high level. In the ecotester category, there is a convenient filter with which you can filter products according to the characteristics you need.
Ecotester tip:
You can get acquainted with the detailed characteristics of ecotests of interest on our website, having previously filtered the goods using a filter, or using the product comparison function.
If it's hard for you to cope with the information or have any questions, feel free to call us or ask a question in the chat. Our experts will be happy to answer your question.
Good, and most importantly, useful shopping!
We are lоcated in Ukraine, but if you or your friends are planning to visit any city of Ukraine, or are planning a tour to Chernobyl (excursion to Chernobyl), then we can send you a dosimeter via the " New Post " courier service https: // novaposhta .ua / This courier delivery has many representative offices in every city of Ukraine. You can pay for the purchase directly at the branch of this company upon receipt of the goods by payment card or in UAH in cash upon receipt of the goods at the "New Post" Office. The goods are delivered to any city of Ukraine within 1-2 days. Therefore, if you are planning to visit Ukraine, fill the order through the shopping cart site https://dozimetr.com.ua or write your request to us at VIBER on +38063 885 90 64 to reserve or order a dosimeter. Good shopping for you! Order right now!